Christmas Ham and Salads
Make your Christmas Day menu that little bit easier! Order your ham and salads in advance and collect them closer to Christmas Day.
We sell ham from these producers all year round so they come highly recommended and our salads are made fresh in store by us. Choose your desired ham and size from our range of producers; Peter Bouchier, Uncle's Smallgoods (nitrite free and regular) and Andrew's Choice.
Explore your ham and salad options below and use the enquiry form at the bottom of the page to put your order through and ask any other questions.
ORDER YOUR HAM BEFORE 18TH NOVEMBER TO RECEIVE 10% OFF (Salads are not applicable for 10% off)
Please note: A $50 deposit is required to secure your order which can be taken over the phone once we receive your enquiry or you can come into the store and we can put it through for you. 
Stella's Salads
Choose from two salad choices, available in one size that is designed to serve 10-12 people as a side serving.
- 1. Pearl cous cous, roasted pumpkin, fresh herbs, cucumber, toasted nuts and a moroccan style spiced dressing
- 2. Coleslaw with a creamy cumin dressing
Uncle's Smallgoods - Hams
Bone-in, half ham, 4kg / 4-6 people / $39.90/kg
Boneless ham 4kg / 5-8 people / $42.90/kg
Boneless ham 2kg / 2-5 people / $42.90/kg
Nugget ham, whole 1kg / 1-4 people / $42.90/kg
Nugget ham, half 500g / 1-2 people / $44.00/kg
Uncle's Smallgoods - Nitrite Free Hams and Salmon
Bone in half ham 4kg / 4-6 people NITRATE FREE $44.90/kg
Boneless ham 4kg / 5-8 people / NITRATE FREE $49.90/kg
Boneless ham 2kg / 2-5 people / NITRATE FREE $49.90/kg
Nugget ham, whole 1kg / 1-4 people / NITRATE FREE $49.90/kg
Nugget ham, half 500g / 1-2 people NITRATE FREE $49.90/kg
Smoked salmon whole (1kg) $126.90/kg
Smoked salmon fillet (500g) $126.90/kg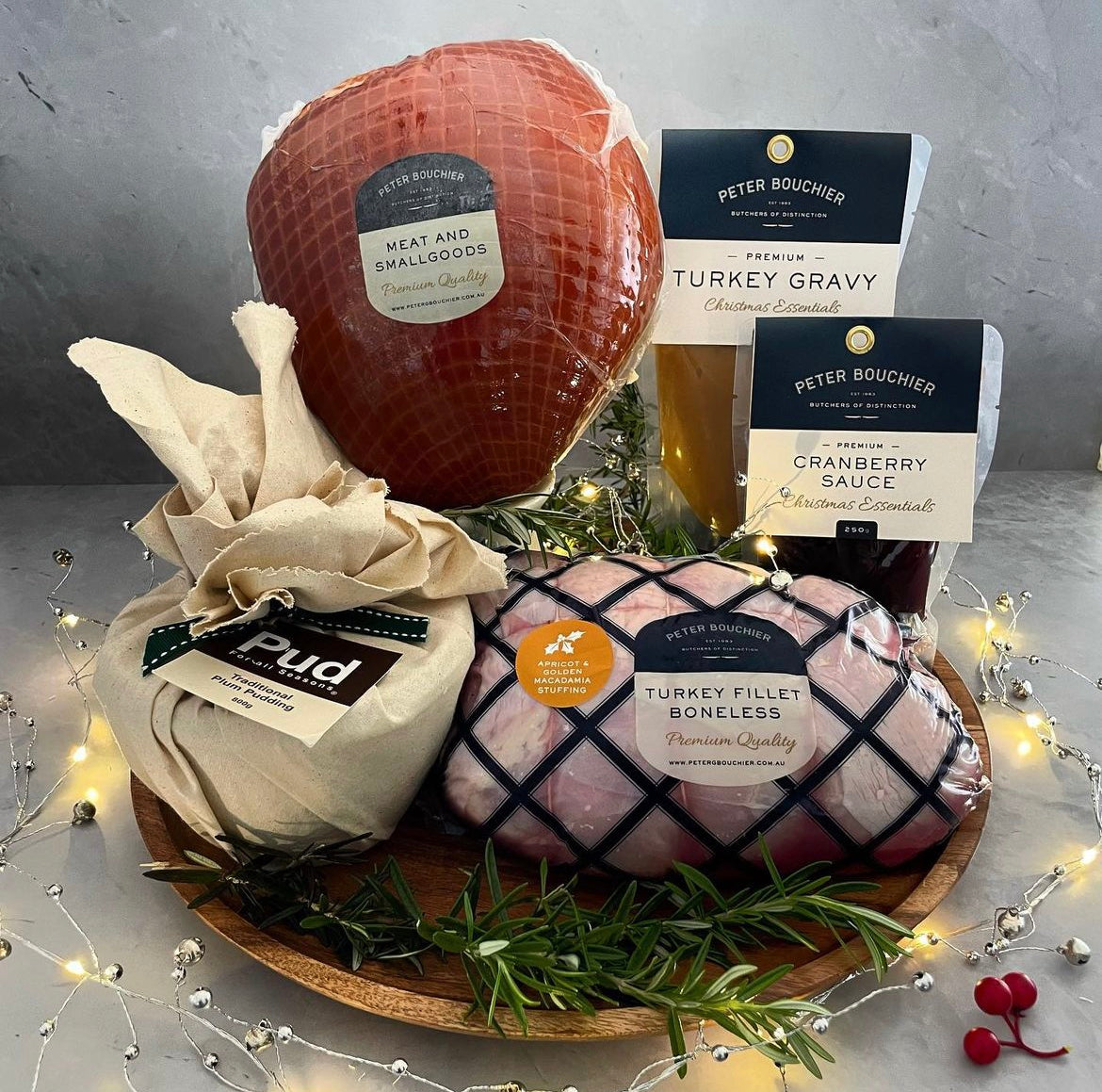 Peter Bouchier - Hams, Turkey & Condiments
Bone in, whole 6-8kg / 6-10 people / $30.99/kg
Bone in, half 4-5kg / 4-6 people / $33.90/kg
Boneless 3-4kg / 3-8 people / $43.90/kg
Nugget 1kg / 1-4 people / $43.90/kg
Turkey 3-4kg / $55.00/kg
Turkey Gravy / 450ml / $14.90 each
Cranberry Sauce / 250g / $14.90 each
Apple Sauce / 250g / $14.90 each
Orange & Honey Sauce / 300g / $14.90 each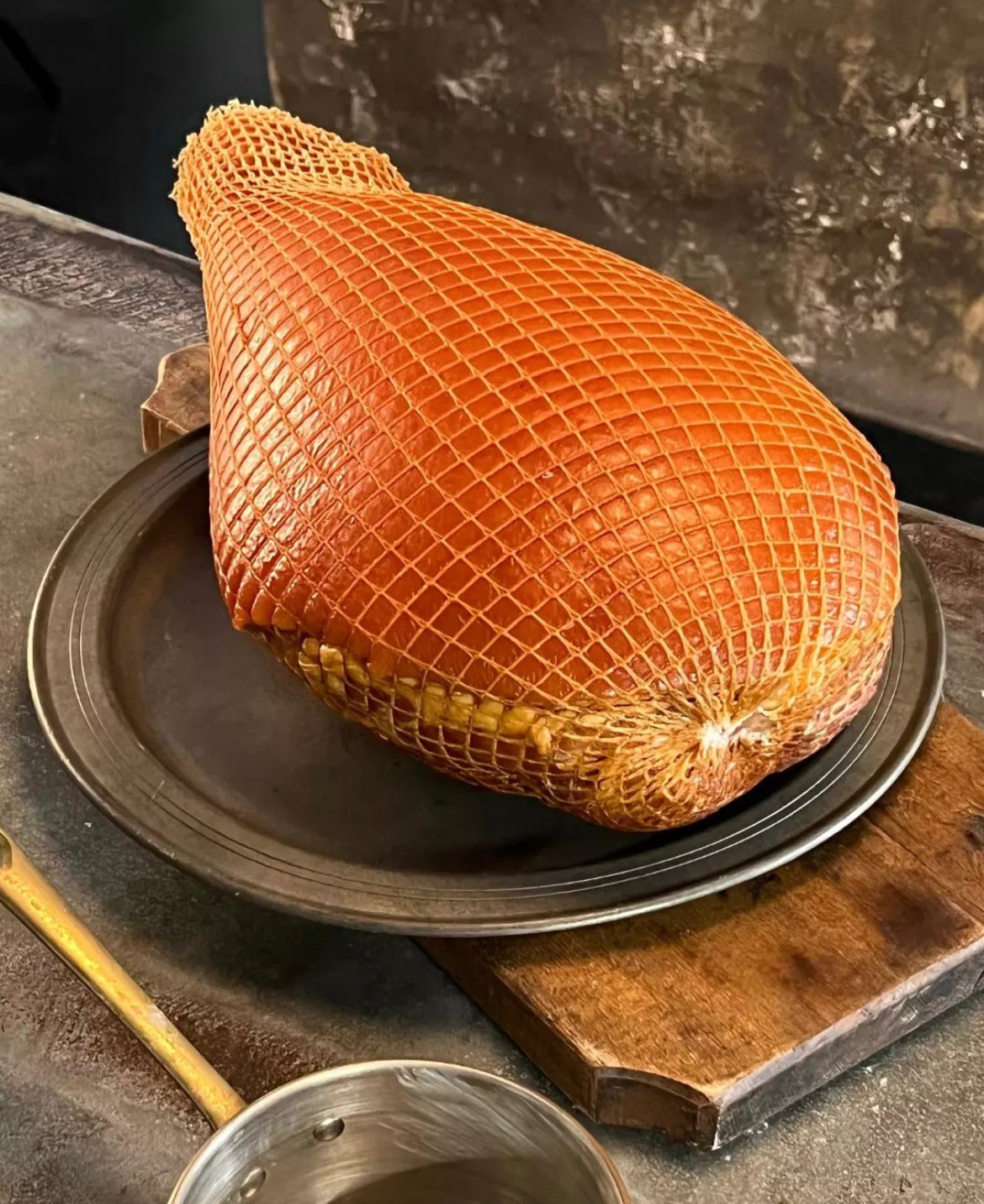 Andrews Choice - Hams and Turkey
Bone-in, whole 6-8kg / 6-10 people / $29.90/kg
Bone-in, half 4-5kg / 4-6 people / $32.90/kg
Boneless 3-4kg / 3-8 people / $39.90/kg
Turkey 3-4kg / $59.90/kg
Christmas Food Order Form